By mixing a number of genre influences, as well as, "black" and "white" sounds of music Elvis Aaron Presley very quickly rose to the top of the music industry after being discovered by an assistant of Sun Records owner Sam Phillips. Elvis has sold well over 600 million records and has been inducted in multiple halls of fames worldwide. His music has spanned decades and reached estimated billions at times. This is the path that led to such successes.
Early Life

Elvis Aaron Presley was born January 8, 1935 to father, Vernon Elvis Presley, and mother, Gladys Presley in Tupelo, Mississippi. Elvis was born in a 2 room shotgun house built by Vernon in East Tupelo. Elvis Presley was of German, Cherokee and British descent. He was also a twin. His brother, Jesse Garon Presley, was a stillborn. Throughout his childhood and much of his life Elvis would be deeply devoted to his family.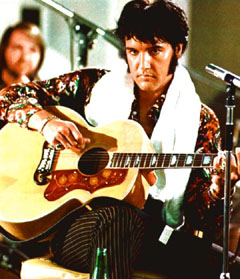 Elvis got his first guitar at the age of ten and began practicing it. He won his first talent show at a local high school in Memphis. After high school Elvis worked many odd jobs. One such job was as a truck driver. It was during this job that Elvis would groom his trademark looks. Though very shy, Elvis still pursued his music career and live performance.

Hit Maker

In 1953 Elvis went to supposedly record two tracks for his mother's birthday (which had pasted months ago) at Sun Records. After he recorded the tracks Sam Phillips' assistant heard the recordings and marked them to be held. The songs were of Elvis singing two ballads. As fate would have it, Sam Phillips was looking for a singer that could blend specific sounds such as African American blues and boogie-woogie music. Elvis started recording right away.
Young Elvis' nerves got the best of him early on however. Aside from the guitar, Elvis is also learned to play the piano and if you want the learn to play it today – you can book here: http://www.musictoyourhome.com/piano-lessons-nyc/. The first recordings reportedly were good, but just not there. Elvis then recorded "That's All Right" and Bill Monroe's "Blue Moon of Kentucky" after finally "chilling out" with his fellow musicians.
One of Elvis Presley's last performance as he played "Unchained Melody" on the piano
Once Sam Phillips was able to get a DJ to premiere "That's All Right" it was an instant hit. The phone rang off the hook asking for it to be played again and again. So much so, that the recording was played 14 times by the DJ.
Elvis spent the rest of 1954 touring trying to build a following. His persistence would pay off in 1955 when he developed such a following. It was with this following and the help of manager Colonel Tom Parker that Elvis would sign with RCA the following year.
Elvis would also sign a movie contract with Paramount Pictures in '56. Not only that, but his "Heartbreak Hotel" single and album would both hit number one that year. Everything was turning up golden for Elvis Presley. Then in 1957 Elvis was drafted into the military.

Mother's Death, Pricilla, Military
Elvis' career still prospered while in service in Germany, however, tragedy would strike his family when his mother, Gladys, died in August of 1958. Elvis was allowed to leave his post to attend his mother's funeral in Memphis. Things would brighten for the heart-saddened Elvis upon his return to Germany. It was there that he would meet a young teenage girl named Pricilla. Years later in 1967 Elvis and Pricilla would wed. Elvis left the military in 1960.
Comeback, The '70s
Elvis always had hit and miss box office showings, however, his music stayed pretty steady until the early '60s. Elvis in some people's eyes had begun to drop off. But in 1968 Elvis would return to touring and performing on stage; what he did best.
Elvis would also become a father to daughter, Lisa Marie Presley, during this year. Elvis was back on track and on fire. In a live, televised global concert in 1973 in fact, Elvis reached an estimated 1 billion people and 500 million more on delay. This success was dampened, however, by his divorce from Pricilla who gained custody of Lisa Marie.

Death

Aside from the divorce in the early 1970s Elvis developed a number of health issues. He was well overweight and was also addicted to prescription drugs. At one point Elvis was even hospitalized for his health problems. Despite this, Elvis was still a huge touring draw, especially in Las Vegas.
In 1977 following what would become his last concert, Elvis packed up his stuff and headed home to his mansion in Memphis called Graceland to prepare for his next tour. However, it was found that Elvis had died the morning of August 16, 1977 due to heart failure before he could ever do this. Many considered his death a great loss and still today hundreds visit his Graceland home which is open to the public on his death's anniversary.
It is the Webmaster's wish to present to the ELVIS PRESLEY follower a site with a content that's as perfect as possible.It is therefore requested that any broken links are brought to the attention of the Webmaster so that these will be rectified as soon as possible.
Suggestions are welcome.
"Elvis", "Elvis Presley", "Graceland" are Registered Trademarks of Elvis Presley Enterprises, Inc. © 1999 E.P.E., Inc.